Prayer Focus
Today's Prayer Focus
September 21, 2023
Please pray for the FEBC-Ukraine staff as they prepare for winter by insulating the office, servicing the generator, and gathering the necessary supplies.
09/22/2023
Please pray for listeners like Ivan, who put his faith in Jesus through FEBC-Russia's program for prisoners. "I recently went to an event where many people knew me from before. They were surprised to find out I wasn't drinking or smoking, and even more surprised that I was a believer. One woman said to me, 'I've been watching you all this time, and I've decided to stop drinking. You have so much energy and light. That's how I want to live too.' Thank God that I found your program and that God changed me and my life in one day. But I know that this is only the beginning!"
09/23/2023
Please pray for God's favor as FEBC-Ukraine attempts to obtain a permanent license in Kyiv. We are currently broadcasting on a temporary war-license. Please pray for God's favor and for His will to be done.
09/24/2023
Please pray for listeners like Eugene, who stayed in communication with one of FEBC-Russia's broadcasters for 6 years before putting his faith in Jesus. When Eugene went through a difficult time in his life recently, he asked the broadcaster to connect him with a local church. A few weeks later, he and his wife were baptized.
09/25/2023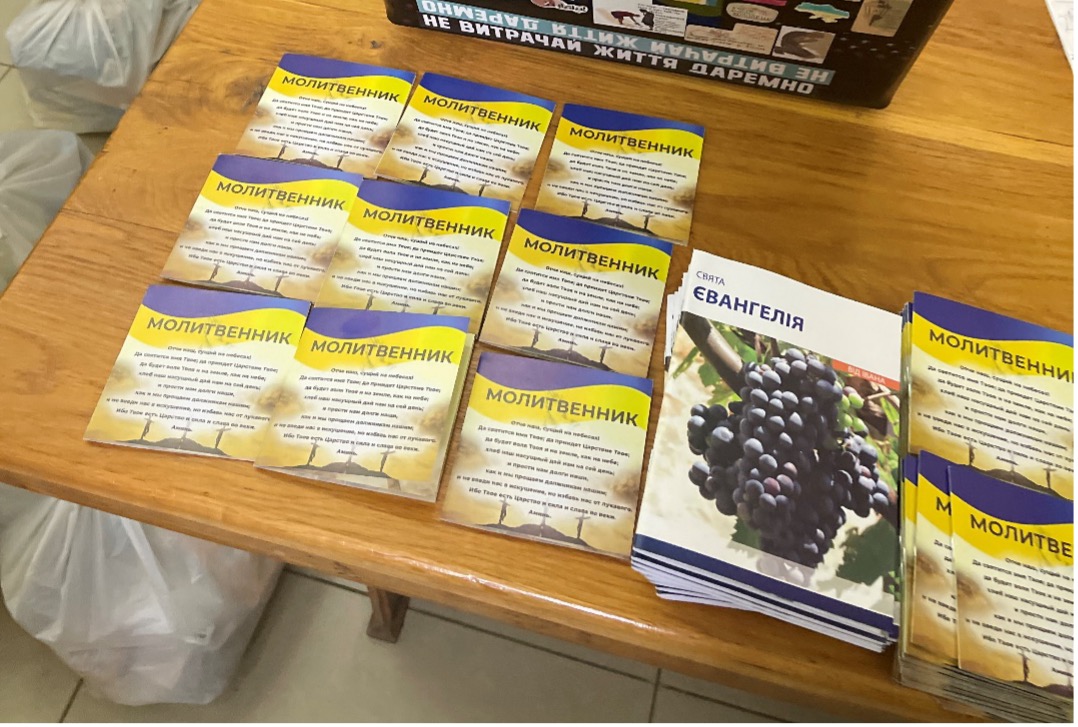 Please pray for listeners like Bogdan, who received one FEBC-Ukraine's prayer booklets. Bogdan called FEBC-Ukraine after receiving a prayer booklet with FEBC's phone number inside. "This prayer booklet was a great support for me. I accepted Jesus! I prayed the prayer for forgiveness of sins I found there, and made Jesus my Lord and Savior. My wife died a few months ago—it's been difficult, I'm so lonely, but I read prayers from the prayer booklet every day and God's grace surrounds me. Thank you for helping comfort me in this terrible grief."
09/26/2023
Please pray for listeners like David, whose life changed after beginning to listen to FEBC, and who is now helping others come to know Christ through FEBC's programs. "I started watching your programs about a year ago. I even turn them on at work sometimes, where I had problems. Since I've been watching, the entire environment has changed at work. It's great!! My wife and children also noticed that I've become a softer, kinder person. I tell everyone about your program now. And I think some of my employees have started to believe in God since I started playing your programs here!"
09/27/2023
Please pray for FEBC-Ukraine's partnership with churches to continue to grow. Churches will sometimes reach out to FEBC's team for help with different evangelistic projects. Please pray for partnerships like this to lead to more listeners coming to church.
09/28/2023
Please pray for listeners like Darina, who have been overwhelmed by the struggles they have faced in the last year and a half. Darina had experienced many troubles in addition to the war, including problems in her family and her husband's life being in danger. At first, she handled it, "I was an iron woman," she said. "But in the last six months, something happened to me. I can't bring myself to do anything, I'm depressed, any minor problem that I used to be able to solve easily now overwhelms me." FEBC-Ukraine's counselors offered Darina advice and other resources. When they prayed for her, Darina began praying as well and repented of her sins. "Thank you so much for helping me!"
09/29/2023
Please pray for the leadership of FEBC-Ukraine - Viktor Akhterov, Eduard Kurylenko, Ihor, Sergey and the entire leadership team. Please pray for God's guidance in making decisions and for God's protection as they travel.
09/30/2023
"I can't decide whether I should keep living with my husband or get a divorce," said a listener named Elena, from Ukraine. "We're constantly arguing. I tried to get him to work on our relationship, but all the initiative comes from me." FEBC's counselors shared the Gospel with Elena and, as they prayed with her, Elena put her faith in Jesus. "God Himself sent you to me," she said. Please pray for listeners like Elena who are facing serious marital trouble. May many more come to learn that Jesus is the only solution to their troubles.